The friendly fire engine that sparked an idea
Katcha Bilek's handbags began life in the back of a converted fire engine. This formerly utilitarian vehicle was home to Katcha while she was travelling round Europe in 1998. And in a fire engine, the spark of an idea took flame – if a vehicle destined for the crusher could become a home, then what could a discarded tyre be transformed into?

Using traditional Spanish leather-working techniques, Katcha began to transform unwanted inner tubes into beautifully designed bags – and sold them straight from the back of the fire engine.
---
Upcycler to the Stars
After successfully running her design studio in Bristol UK for 10 years, Katcha has landed in Graz, Austria. Since founding her company, she's upcycled inner tubes, tyres and computer parts into everything from laptop bags, to belts, to chandeliers – and even the famous car tyre crocodiles.

From the unconventional beginnings in a fire engine, Katcha's products can now be found worldwide. KB products grace the shoulders of fashionistas, business people, and even Brit Award stars, including David Bowie and Prince, who love the fact that, even with their recognisable design aesthetic, each KB product is slightly unique. No matter how global KB becomes, materials remain locally sourced, and the designs remain an alternative that defines eco-friendly, loveable fashion.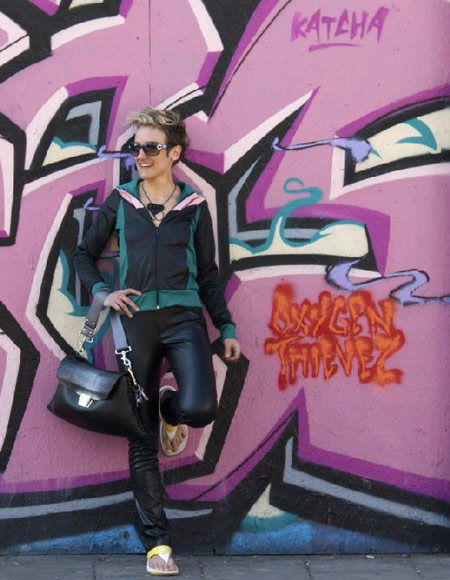 I became so aware of the abandoned materials that were around me and it struck me that, with some imagination, they could be reconstructed into something beautiful and useful.

Katcha Bilek