The most fun you can have with rubber in public
…and it's not just the rubber that's recycled. Car seatbelts are transformed into durable bag straps and the linings are all end of line designer fabrics. As for the rubber itself, KB's alchemical constructions transmogrify inner tubes, bike tyres and rubber mats into waterproof wallets and durable bags with bounce.
Bags
Need to carry a small laptop or iPad but don't want to look bland or officey? Ade comes to the rescue with this retro design, inspired by the traditional Spanish leatherworking patterns that Katcha picked up during her travels.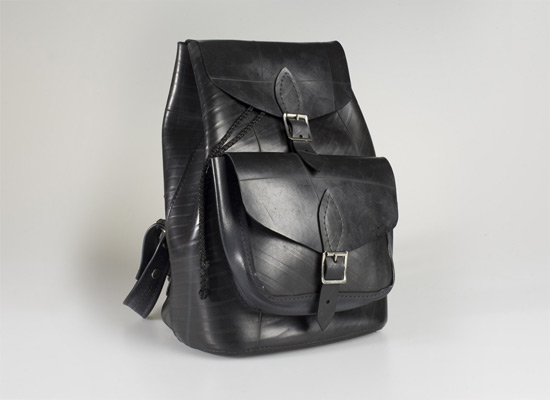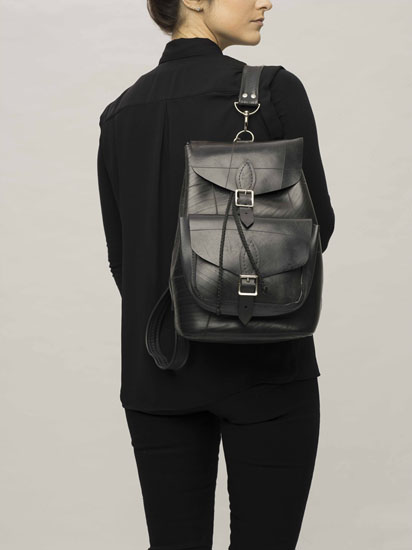 Inspired by Katcha Bilek's travels through Spain, this bohemian-feel satchel is another Katcha Bilek classic. Waterproof and versatile, this stylish satchel is easy-to-wear at working and play. The choice of brass or silver studding & transformed inner-tube makes this KB piece an interesting twist on the traditional style of satchel.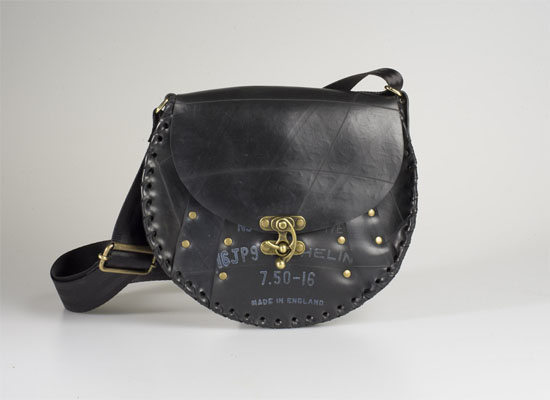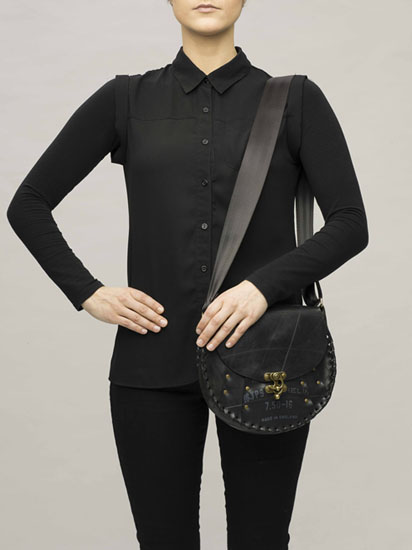 Locally sourced inner tubes are recycled to create this unique and feminine handbag. While Imma is an out-and-out ladies' style, she's totally tough, durable and long-lasting in typical KB sustainable fashion.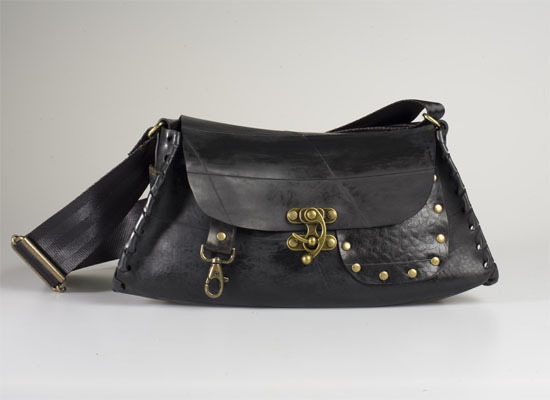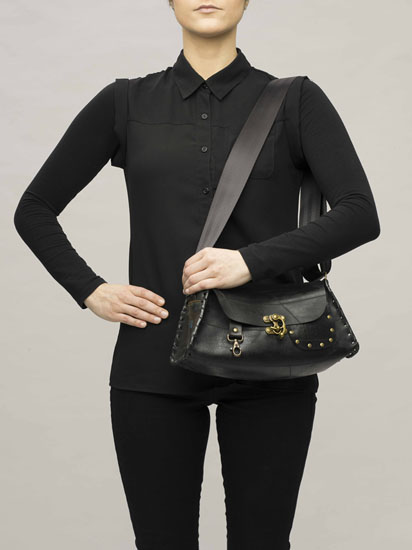 Deep in the Spanish desert, Katcha created Tsubi, taking inspiration from the country's centuries-old leather crafting traditions. Tsubi brings the art of Spanish leather work smack-bang into the present moment, using 100% vegan and recycled materials. Being made from upcycled innertube, this eco-luxe handbag is waterproof and durable without compromising on style.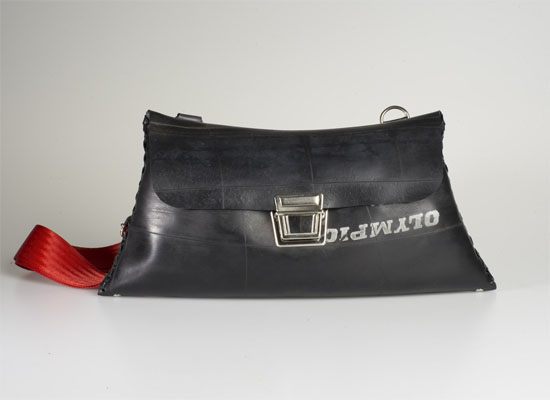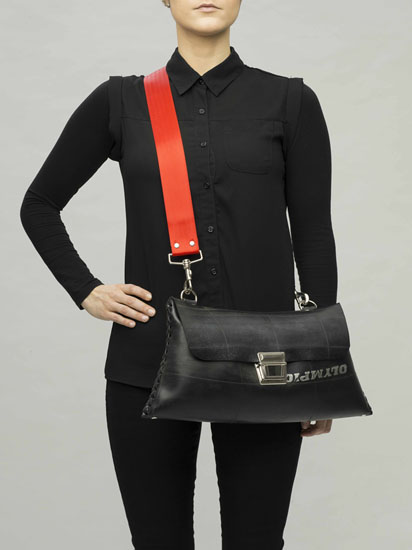 This eco-friendly handbag, hand-crafted from recycled wheelbarrow tubes, epitomizes KB's highly inventive approach to sustainable, ethical design. Each Lucy handbag is bespoke and custom-made, with your choice of zips and fittings.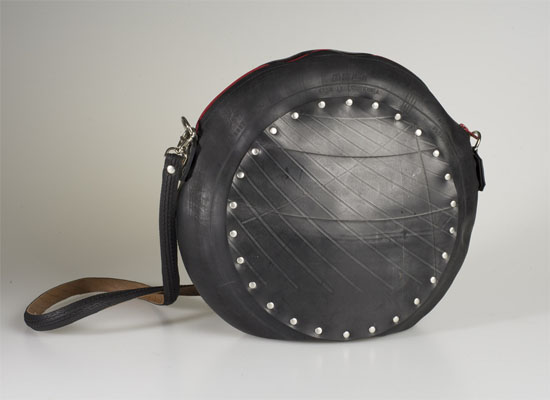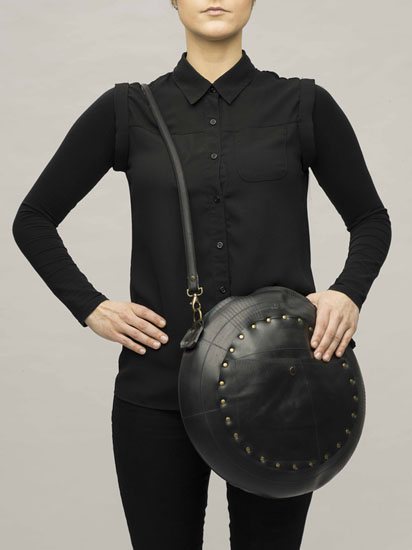 Made from KB's signature recycled inner tubes and bicycle tyres, this is a bag to clutch hold of on a night out as it contains just the essentials in a stylish and compact fashion, without impeding any dancefloor shape-throwing.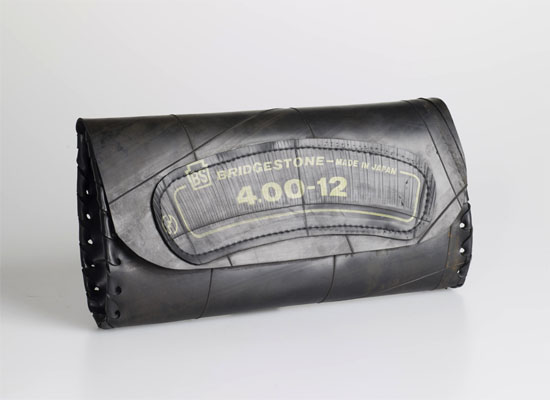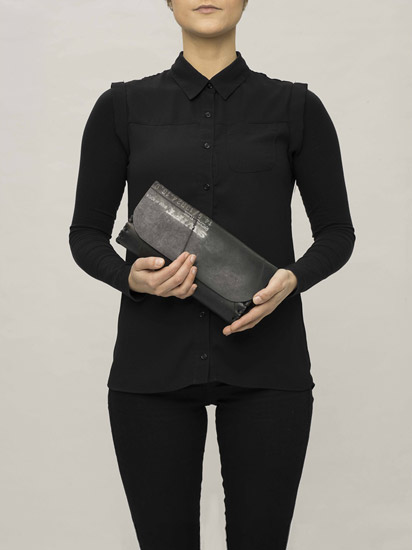 A recycled racing car seatbelt strap lends the flash of red in the under-straps of this roomy shopper. Natalia is the kind of bag that somehow carries everything you need and more without being bulky or cumbersome. Don't worry about losing your keys or phone amongst the cargo–Natalia features 2 handy pockets inside.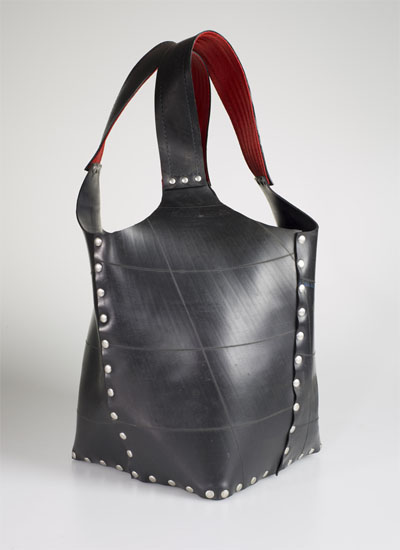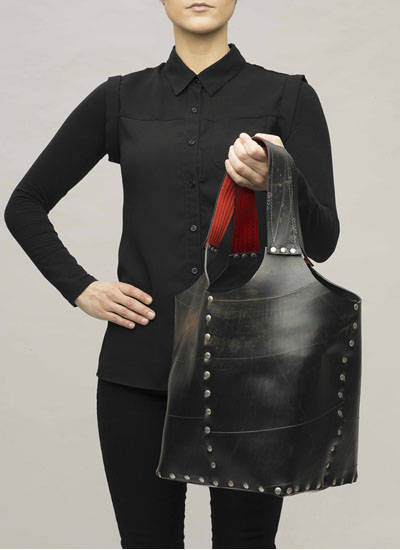 Combining functionality and style, Renata is strong enough to carry heavy loads, and can be worn with officewear and nightwear alike. The functional and clean design of this piece has made it a favourite with all walks of life.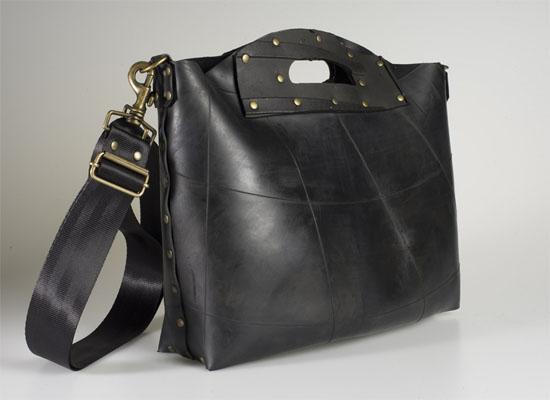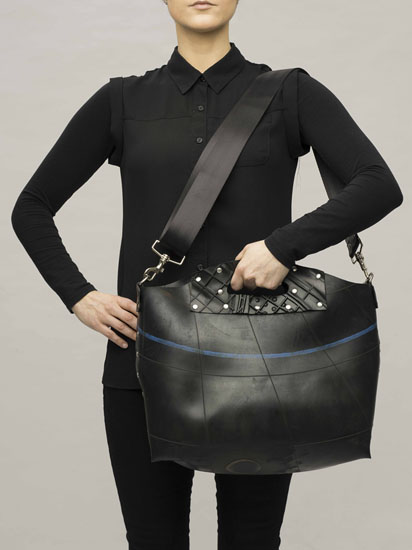 This roomy shopper combines eminent functionality with fabulousness, with a choice of vintage lining in a selection of juicy colours. The Rowena shopper has 2 practical compartments for keys and phone.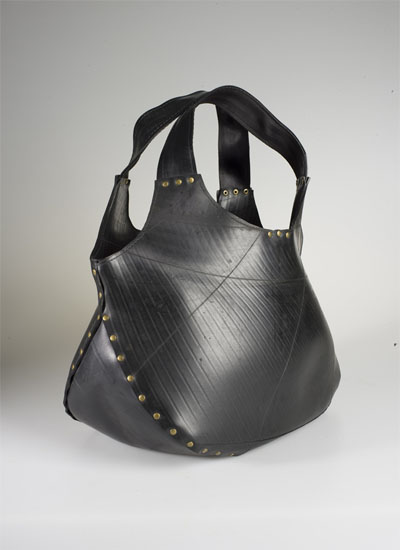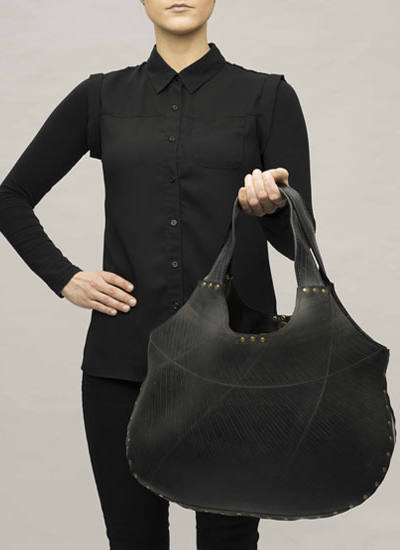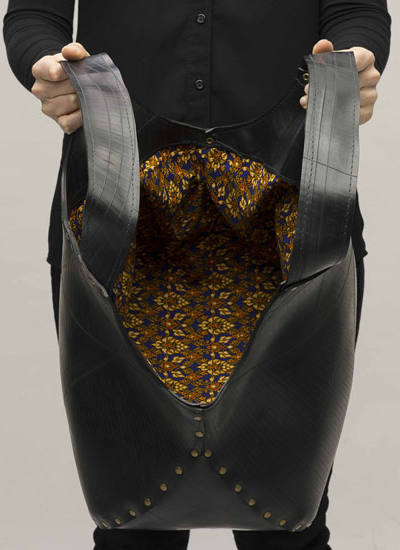 Clipping neatly on to the back of your bike saddle, the Saddle bag is tough enough to carry your bike parts and spares, yet possesses the kind of dapper appeal to really work it as an evening clutch or mini - handbag.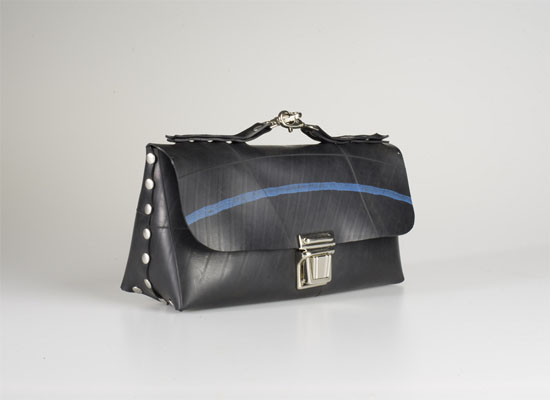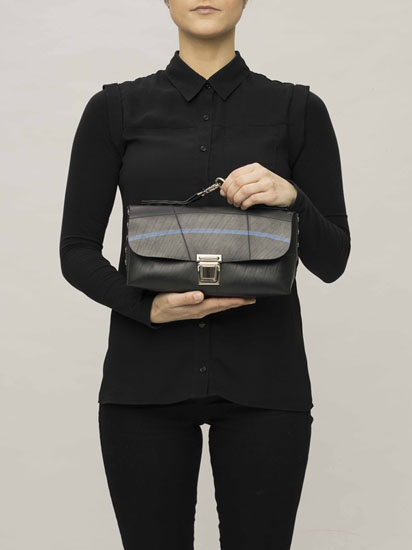 Super durable, Simona is a long-lasting and ethical handbag choice.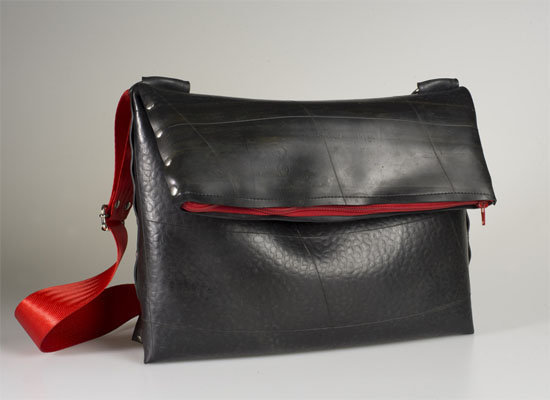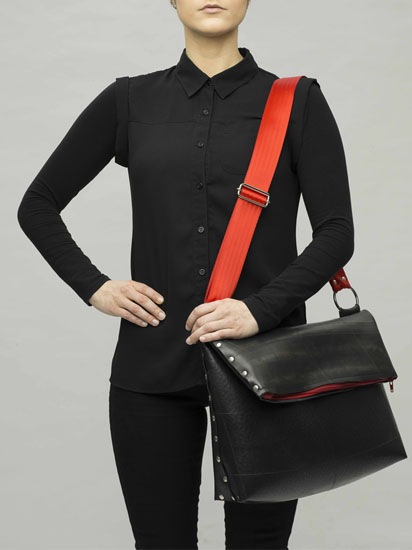 Handcrafted from expertly upcycled inner tubes and car seatbelt, like all KB products Seb is highly durable and also waterproof. He's available with KB bespoke options, including vintage lining and limited edition red strap.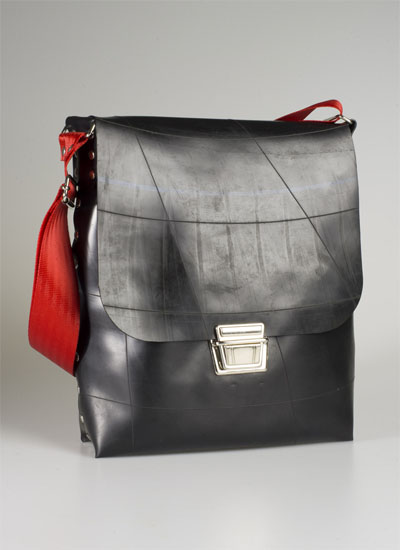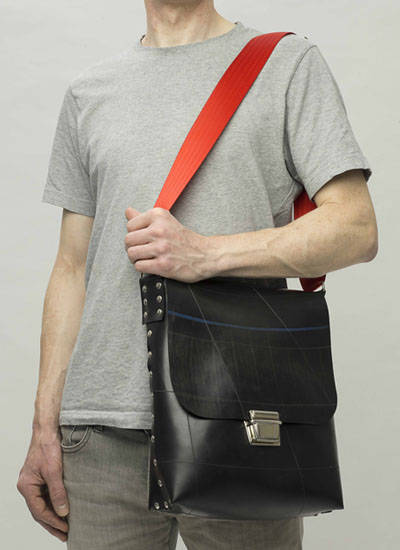 Fitting in a 15" laptop with room for extras, Ewan is available in KB bespoke variations, including vintage lining and red strap options.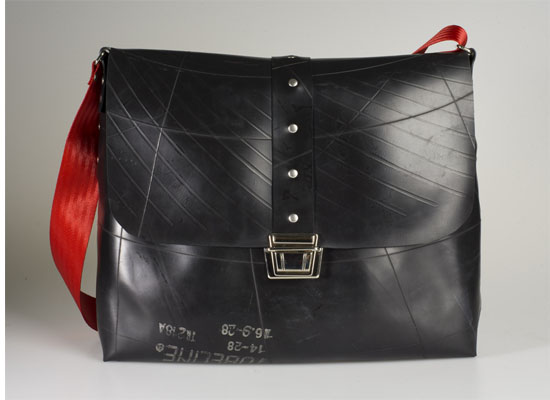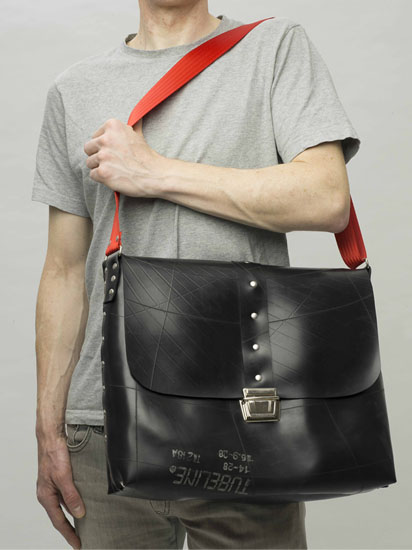 The ultimate messenger bag, Katcha designed the deviously diagonal BikeBag for a friend who simply needed to carry his iPad and 2 cans of beer.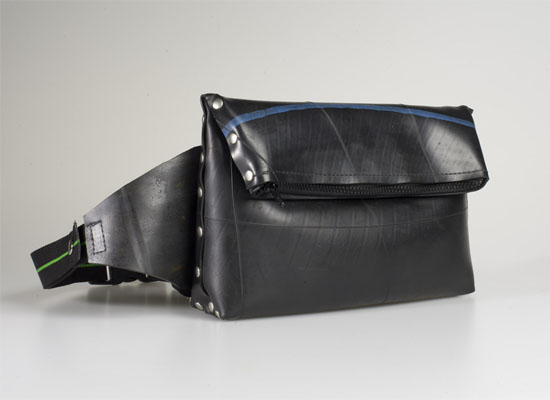 Accessories
This man-sized wallet that amply contains cash, cards and receipts, and made from recycled inner tube, he's unmatched in long-lasting durability.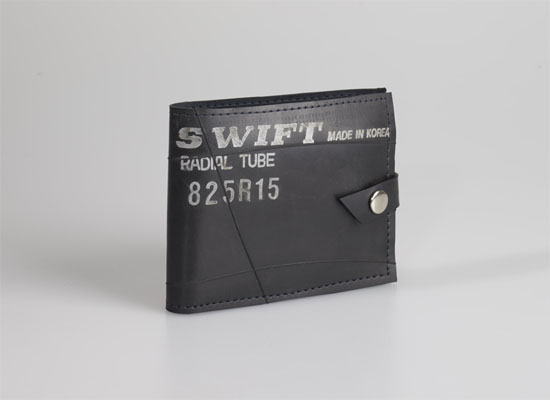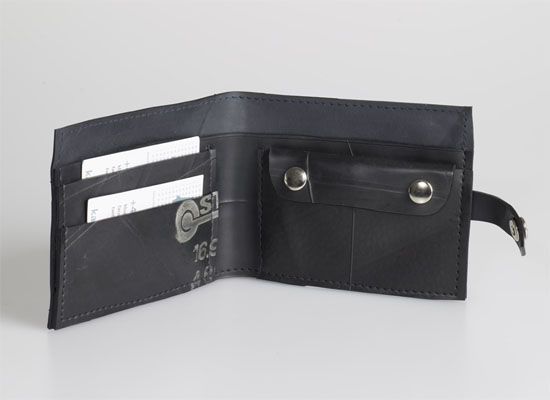 Like the Tom wallet, but without the coin purse.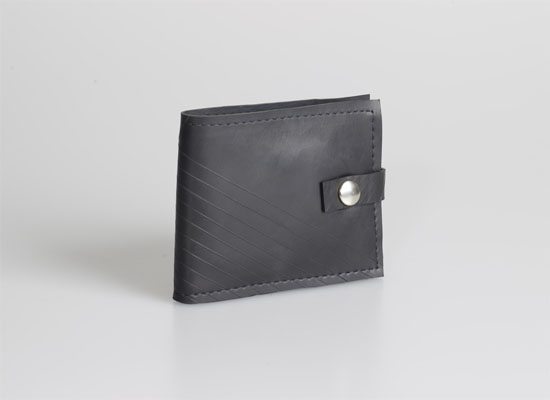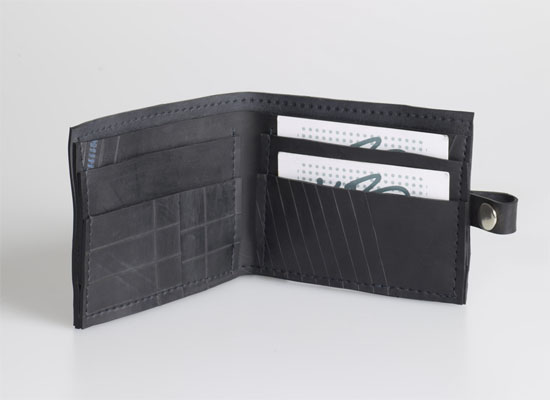 Inspired by traditional Spanish leatherwork purses, Carmen is a vegan, sustainable version for the 21st Century. Made as she is from recycled inner tubes, Carmen will last several times longer than her leather or plastic equivalents.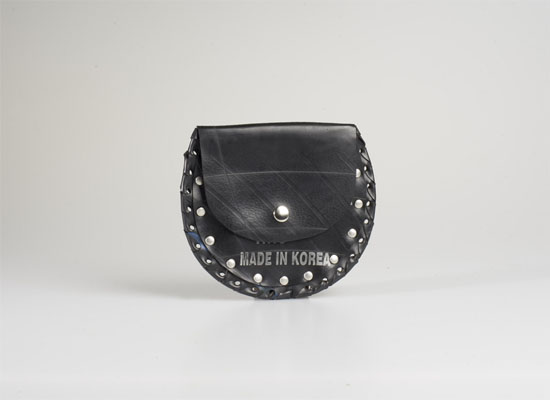 Amber is the first in a series of collars made from recycled inner tube. She's tough yet feminine, and has intricate details but is very easy to wear.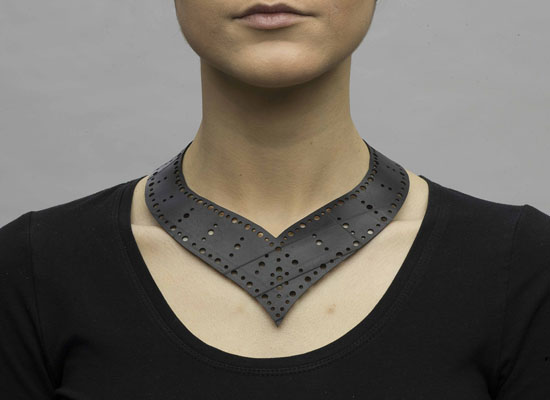 Whilst some wear jewels, the fashionista who likes to stand out chooses Jules, adorned as she is with punk-inspired studs in the place of precious stones.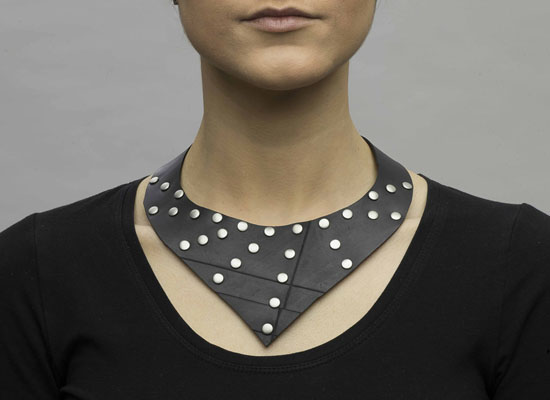 Glam rock crash-lands into the world of punk via this awesomely asymmetric collar, originally designed for none other than Lady Gaga.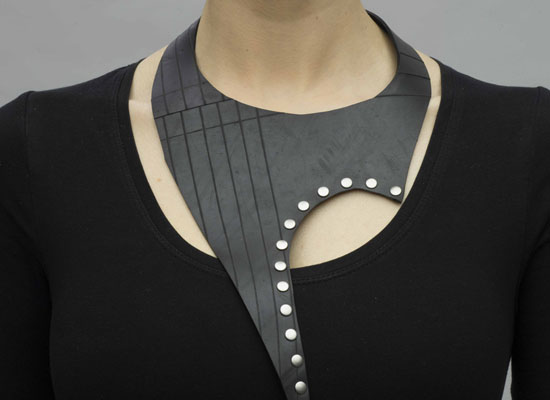 Another beauty in the upcycled innertube collar range. Phoebe is hand-crafted and delicately decorated with linear perforated holes. A far cry from her muddy farm origins.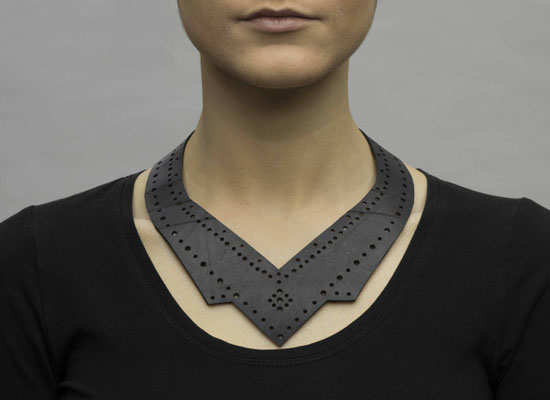 Our upside-down Deco-inspired collar. As always, made by hand using tractor inner-tube and rivets. Who would've thought something so elegant was once driving around muddy fields?